Organic Vanilla from Niue Island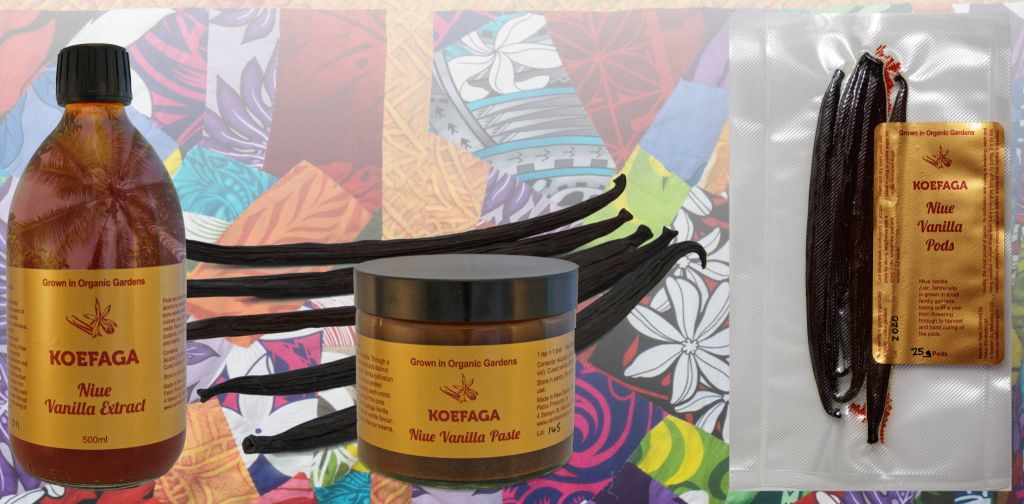 Koefaga Vanilla is a boutique producer of Vanilla Extract, Vanilla Paste and supplier of organic Vanilla Pods.
Grown on Niue Island on small family organic gardens, the purity of the environment and simplicity of the lifestyle is reflected in the high quality of Niue vanilla.
Just inside the Tropic of Capricorn, Niue is a small, geographically isolated, self-governing nation in the South Pacific Ocean.
The Tahitian variety of vanilla is grown on Niue, and is internationally preferred as a culinary vanilla. See more about Var. Tahitensis, on our 'About Niue Vanilla' page.
Vanilla is the only orchid that produces a fruit. Cultivation of the vines is very hands-on hands and slow, involving hand pollinating of each flower, waiting nine months for the pods to mature, a period of up to five months curing, followed by the art and science of extraction means it can be two years before the extraction process is completed.
Koefaga is a small hands-on production house, with New Zealand based value added production, and an island presence in Niue each year, Read more . . ..
If you are cooking for special dietary needs, are vegetarian, vegan, paleo, vanilla is recognised as a natural flavouring.
In Vagahau Niue, Koefaga, (said coy-fung-ha) means 'deliciously delectable'. Say no more!