Organic Vanilla Paste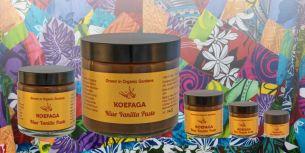 Organic Vanilla Paste
Vanilla paste captures the whole of the flavour and aroma from the pod. The essential flavour components of vanilla are held in the pod and its fleshy contents. Vanilla seeds deliver the distinctive speckled effect in whipped cream, ice cream and custards as well as in baking.
Finely ground vanilla pods have been saturated with vanilla extract to create a paste making natural vanilla available from a teaspoon rather than from a pod. One teaspoon of paste is equivalent to one pod.
Being more robust than extract, paste brings an earthy vanilla flavour to infusions or baking.
Use Koefaga Organic Vanilla Paste as an alternative to vanilla extract in baking, or pods in an infusion or where a recipe says to scrape a pod.
Vanilla has the quality of rounding and melding flavours, reducing egginess or milkiness, and bringing together other spices, herbs and flavourings during cooking.
One Nelson mum puts a little paste into the breakfast porridge. She dropped by the stall to say "the children just gobble up the porridge".
Products in this category

Organic vanilla paste
My order
Your shopping basket is empty.
Buy Vanilla - Quick Links
New Zealand deliveries only
Currently we only ship throughout New Zealand.
Please ask us for a shipping quote for sending our vanilla to your country.
Secure on-line ordering
Order securely on-line.
All transactions in New Zealand dollars, as displayed.
Prices include GST.


Contact Us
Email: salesblablabla@vanilla4cookingblablabla.nz
Koefaga Vanilla
PO Box 201
Motueka 7143
Nelson
NEW ZEALAND