Organic Vanilla Pods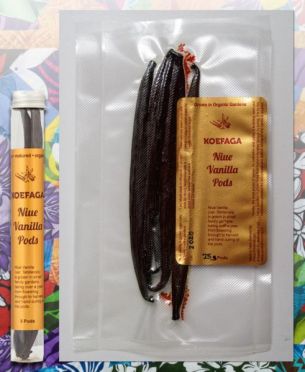 Organic Vanilla Pods
The variety of vanilla grown on Niue is Vanilla Var. Tahitentsis. It is a lesser known vanilla variety with production primarily on Niue, The Cook Islands and Tahiti in the South Pacific. Niue vanilla, var Tahitensis, is fragrant, with high heliotropin levels making it a desired culinary vanilla. With its specific flavour markers and unique floral notes it is the vanilla of choice for master chefs.
The 2017 cured pods harvest has now sold out. Our easy to use and convenient solution is Koefaga Vanilla Paste, so handy to have in your pantry.
So whether you're cooking in the restaurant kitchen or at home, you'll enjoy the flavour of our beautiful organic vanilla.
After nine months the mature pods are harvested, then the slow methodical curing process begins. Through exposure to the sun for heat and then wrapping, the pods turn dark brown and gradually the moisture content is reduced through sweating. When the pod weight has reduced by 50%, the curing continues more gradually with air drying for specified times each day. The cured pods are around 30% of their original weight, they are now supple, dark, glossy and fragrant and ready for sale.
A major quality of vanilla is to smooth flavours, primarily those of egg and milk in custards, sauces and ice cream.
And these pods, made into vanilla extract and vanilla paste bring the traditional flavour and aroma of vanilla into your kitchen. You then have a suite of vanilla products for true convenience.
Store vanilla pods in your pantry.
Koefaga Vanilla Pods are packed in sealed glass vials.
Products in this category

Vanilla Pods Grown in Organic Gardens
My order
Your shopping basket is empty.
Buy Vanilla - Quick Links
New Zealand deliveries only
Currently we only ship throughout New Zealand.
Please ask us for a shipping quote for sending our vanilla to your country.
Secure on-line ordering
Order securely on-line.
All transactions in New Zealand dollars, as displayed.
Prices include GST.


Contact Us
Email: salesblablabla@vanilla4cookingblablabla.nz
Koefaga Vanilla
PO Box 201
Motueka 7143
Nelson
NEW ZEALAND